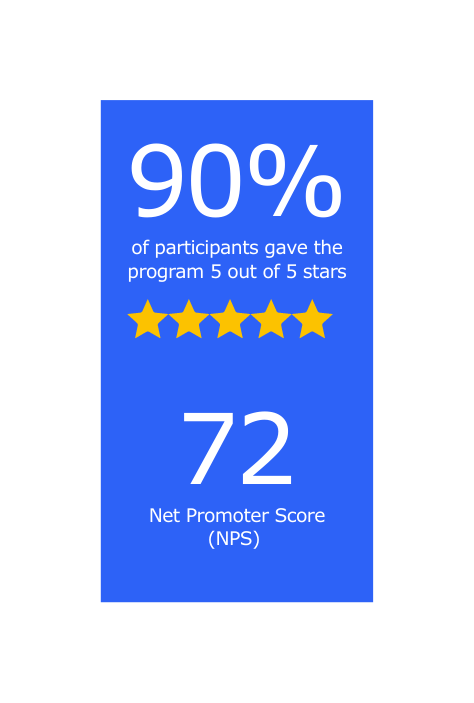 Participant Impact Report
Together is excited to share the results of our latest Moving Together
™

program participant survey!

This report provides the results of a survey sent to all active participants in April 2022. It includes results for overall satisfaction, physical benefits, social benefits, emotional benefits, cognitive benefits, and potential impact on falls and health.

The goal of the research-based, online, Moving Together™ program is to improve the quality of life and help people with memory loss to stay healthy and independent at home.
Report Highlights
Overall Satisfaction
Most participants loved being a part of the program!
Participants reported high levels of overall satisfaction.
81% would recommend or promote the program
Participants reported major improvements in their balance and mobility, as well as the ability to focus better and learn new skills. They also mentioned less stress and greater mood and energy levels.
In addition, the participants felt more relaxed and connected to others.
"As a caregiver, I have learned safe techniques to improve balance, standing from sitting, and ways to have better motion when there is a deficiency in the body. These techniques may insure a safer existence and better life."
---
Physical Benefits
Moving Together™ is designed to help older adults improve their physical function through gentle movements that build slowly in complexity over time.
67% reported having Better Balance
"The exercises make me stronger and show me how to be safer in
standing and walking.
---
Cognitive Benefits
Moving Together™ encourages participants to pay attention to their bodies and their breathing.
Mind-body awareness can increase the ability to focus and pay attention to what is happening in the present moment.
70% said it helped improve focus
80% said it helped them to learn new skills
"We loved the class and will enroll again. We hope to learn more new movements that help our dementia."
---
Social Benefits
During the class, people participate as a group and do the movements together, in real time. Instructors encourage participants to share what they notice about the movements, which helps the group feel closer to each other.
90% felt less lonely & 100% felt connected to others
"The group becomes family and that is a gift for participants that are primarily homebound."