Medicare Advantage plans can reduce the financial and clinical burdens of members with Alzheimer's Disease, Related Dementias, and Mild Cognitive Impairment
Mild cognitive impairment (MCI) and Alzheimer's disease and related dementias (ADRD) are on the rise—both in the U.S. and globally. Medicare Advantage plans may grasp the scope of the crisis but lack solutions with verified clinical outcomes. Plans have a two-pronged opportunity for profitable investment that will both improve members' quality of life and produce a return: identify members with undiagnosed ADRD and MCI, and tap into an evidence-based program that supports diagnosed members.
Investing in the battle against cognitive decline will cut the number of debilitating falls and costly emergency visits. Detecting undiagnosed cases will help plans get a head start in addressing a burgeoning healthcare crisis. This article documents the scope of the challenge, payers' previous responses, and the business case for proven, research-based solutions.
A National Crisis and a Health Plan Conundrum
More than 15 million Americans suffer from ADRD or MCI, creating an economic impact of $355 billion in 2021 that could climb to more than $1.1 trillion by 2050. More than one in nine people over age 65 struggle with ADRD, although half remain undiagnosed. [1]
Medicare Advantage plans are boxed into a corner. They may not know about a member's cognitive decline until the point of a belated medical diagnosis, missing a chance to document the member's disease burden and to support both patient and caregiver early in their journey. The cost of care is skyrocketing: ADRD members' health care costs ($26,400 per year) are more than three times that of members without dementia ($8,100 per year). Those with dementia experience higher emergency department (2.4x), hospital (4.6x), and skilled nursing facility utilization. It costs 2.4x more to treat diabetes in ADRD patients, and they suffer three times as many hip fractures from falls. [1,2]
Medicare Advantage plans are frustrated by the lack of clinically proven medical or pharmacological answers for ADRD and MCI. They struggle to build condition management programs in the same way they approach diabetes, asthma, chronic obstructive pulmonary disease (COPD), or congestive heart failure (CHF). If plans offer ADRD and MCI services, they tend to be decentralized, inconsistent, and confusing. Members and caregivers depend on word of mouth, nurses' tips, and Internet searches to get answers that may or may not be grounded in any evidence.
The bottom line: ADRD remains progressive and without a cure. The future of ADRD treatment is uncertain and expensive given dementia's direct costs to payers, out-of-pocket costs to families, and indirect costs to society, communities, and caregivers. Drugs like the heavily hyped Aduhelm disappoint on multiple dimensions, including clinical efficacy, lack of coverage, and sky-high cost.
Screening Solutions to ADRD and MCI
There's good news. Medicare Advantage plans can identify and evaluate new and alternative solutions to ADRD and MCI for quality and effectiveness by posing these questions:
Evidence Base and Research Findings:

Is the solution anchored in findings from recently published clinical research studies? Is the research supported by grants from entities like the National Institutes of Health?
Expertise and Credibility:

Is the solution supported and endorsed by leading health and medical experts, including geriatricians, researchers, government officials, Medicare Advantage plan executives, members, and caregivers?
Design Specifically for Those with Cognitive Challenges:

Does the solution integrate physical activity with mindfulness, cognitive exercises, and social connections? Is the program and interface designed to minimize cognitive load and work for all abilities?
Extended Support and Community:

How well does the solution deliver social support and an extended community to participating members and caregivers?
Caregiver Engagement:

How does the solution engage caregivers and family members? Are caregivers—whose caregiving burden often raises their own risk of hospitalization—invited to join members in mindfulness, movement, and cognitive activities?
Access Anywhere:

Can members and caregivers access services at any time and any place for a real-time, bidirectional health experience? How does the solution reach beyond existing brick-and-mortar experiences?
The optimum solution to ADRD, MCI, and cognitive decline is real-time, online, evidence-based, therapeutic, and focused on enhancing members' cognitive and physical performance.
The time is now to implement a solution that meets these criteria. Older adults are increasingly taking advantage of the convenience and safety of virtual and online engagement. Sixty-five percent of seniors over the age of 60 own a smartphone, while 53 percent of seniors over the age of 70 own a tablet. Meanwhile, older adult participation in social media has surged four times since 2020. High-speed internet service is more accessible than ever before. [3,4]
A New Opportunity – Together Senior Health
Together with research partners at the University of California San Francisco and backed by $5.5 million in Small Business Innovation Research (SBIR) grants from the National Institutes of Health, Together Senior Health delivers evidence-based improvements to members with ADRD and MCI.
Together Senior Health's Moving Together program integrates movement, mindfulness, and music in a virtual group setting. Clinically-proven results include improvements in social isolation, quality of life, mobility, and cognitive function—primarily in early- and mid-stage ADRD patients.
Members benefit from delayed progression of ADRD and greater mobility and independence, while caregivers feel more confident and secure about family members who remain in the home.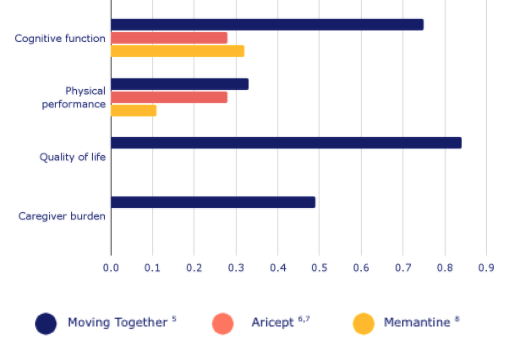 Medicare Advantage plans win through reductions in costly events like avoidable falls, ED visits, and hospitalizations, along with better use of home health and skilled nursing services. Moving Together has demonstrated 2-3x better effect than best-in-class pharmacological treatment among this costly, underserved member base. This allows Medicare Advantage plans that adopt Moving Together to emerge as innovators in cognitive health management and digital therapeutics.
Together Senior Health collaborates with Medicare Advantage plans, providers, government agencies, universities, and associations to manage ADRD, MCI, and cognitive decline in older adults. Its research-based virtual, real-time programs blend movement, mindfulness, and mental activities to create special healthcare-at-home experiences for patients, health plan members, and caregivers.
Sources
1 2021 Alzheimer's Disease Facts and Figures
2 Impact of Dementia on Costs of Modifiable Comorbid Conditions
3 2021 Tech Trends and the 50-Plus
4 Share of those 65 and older who are tech users has grown in the past decade
5 Barnes DE, Mehling W, Wu E, et al. Preventing loss of independence through exercise (PLIE): a pilot clinical trial in older adults with dementia. PloS one. 2015;10(2):e0113367.
6 Hansen RA, Gartlehner G, Lohr KN, Kaufer DI (2007) Functional outcomes of drug treatment in Alzheimer's disease: A systematic review and meta-analysis. Drugs Aging 24: 155–167. [PubMed]
7 Rockwood K (2004) Size of the treatment effect on cognition of cholinesterase inhibition in Alzheimer's disease. J Neurol Neurosurg Psychiatry 75: 677–685. [PMC free article] [PubMed]
8 Smith M, Wells J, Borrie M (2006) Treatment effect size of memantine therapy in Alzheimer disease and vascular dementia. Alzheimer Dis Assoc Disord 20: 133–137. [PubMed]