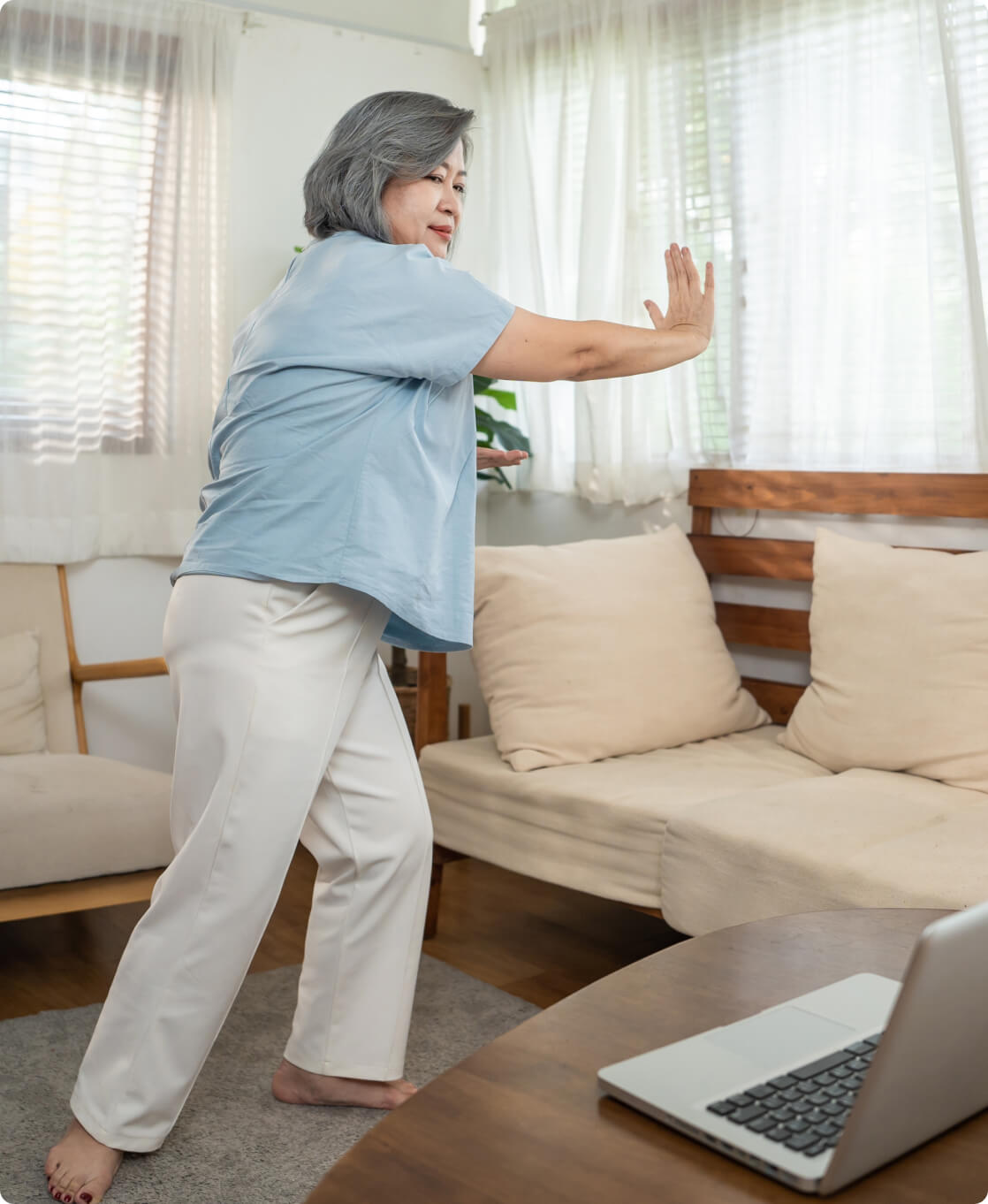 Our Programs
Drugs to treat cognitive decline have yielded only modest effects and most exercise and cognitive engagement programs, while fun, have demonstrated little evidence of impact on memory loss. Together Senior Health instead based our programs on the ways that people with cognitive decline can continue to learn, using muscle memory, mindful body awareness, and social connection in programs proven to provide physical, emotional, and cognitive health benefits. Participate from home — with or without a partner — on your TV, tablet, or computer.
Program Benefits
Stay Independent
Experience stress relief and improved mobility, balance, and coordination to enhance independence and peace of mind.
Stay Healthy
Enjoy improvements in physical function, attention and alertness without the uncomfortable side effects often seen with popular medications.
Stay Together
Form healthy habits together to stay connected to others and reduce feelings of social isolation while gaining a greater sense of well-being.
The Reviews Are In
Don't just take our word for it. Check out what Together Senior Health's program participants have to say.
Not only does it help with the physical part, but it helps the way I think.
Instructors are very caring and inclusive of all students.
I enjoy the…compassion and understanding of the instructor regarding personal limitations.
I like the class very much as it helps me move and do things better.
It's a very good session. A very good organization. I really enjoy it. I start the day out feeling a little bit better than before.
It's so nice to be part of this group, but also to feel safe within our own home.
I am still glowing that my doctor says I am getting better, not worse.
Research
Built in partnership with leading researchers at the University of California, San Francisco, our programs elevate cognitive health through movement, mindfulness, and community.
Frequently Asked Questions
We are here to answer questions or concerns you may have. Check out our FAQs.
Get in Touch
Do you have a question? Please reach out. We're happy to provide more information about our company and program.